Old Time and Old Country Music
Planet Banjo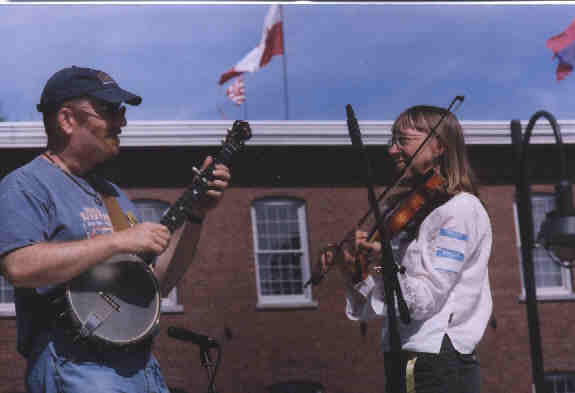 jon & kathy at lowell
photo credit Mike Coughlin
---
Please listen to The Dixie Bee Line on WUMB!
Jon has been hosting since January 2013, and spinning GREAT TUNES every Saturday Night from 10PM - Midnite (Eastern time).
In greater Massachusetts, please tune into 91.9fm, or listen on-line at www.wumb.org.
---
Some cool mp3's...
| | |
| --- | --- |
| Here's Kathy doing a song written by Hank Williams | |
| Here's Kathy singing the Tennessee Blues | |
| Essential repertoire... Sweet Marie, fiddle'n'banjo... 3/29/09 | |
| Kathy & Mark on vocals, Jon on Steel... fabulous song... | |
Come see Planet Banjo &/or the Dixie Butterhounds as we open at the Cantab for the "Second Tuesdays" of 2016. Yes, we're taking a break this summer! But we'll be back in October! The Cantab Lounge is on Mass. Ave, right in Central Square, Cambridge, MA (our fair city) and starts around 8PM. Brought to you by Geoff Bartley, guitarist of some reknown!
Here's a clip from the last April show.
Tell Her to Come Back Home(mp3, only 747KB)
---
The Doc Watson version of Shady Grove that changed my life back in 1971.
---
---
Visit our friends Woody & Beth's Old-Timey website, they're the Bradford Bog People!
---
Check out my friend Will Fielding's most beautiful banjo, the "North Star".
He's the one who made my "Rooster" banjo. They are both incredible banjos... this is an unpaid endorsement! Warning, this is a 1.9Mb PDF file.
---
Yet More Interesting MP3's
| | |
| --- | --- |
| Planet Banjo's public Steel Guitar debut! Live from the Cantab Lounge, in August 2006! One I learned from Dave Giegerich at Ashokan... very cool dude... | |
| One of our favorite John Prine songs... | |
| Hard Ass Country... Mark and Karen sing (Jon on steel).... | |
| Karen sings lead on this one, Kathy and Mark do Harmony, Jon (steel)... | |
| George sings and plays slide guitar, Jon on Steel... | |
| Mark & George on fiddle, Jon on Banjo, Kathy on Guitar... Mark sings... | |
| George leads, Jon Banjo, Karen Harmony, and Kathy guitar on... | |
| If you want to hear Planet Banjo's VIRGIN recording... warts and all... Kathy sings & plays guitar, this is Jon's steel debut... a mite shaky... but purty... | |
| From April 2006 Live at the Cantab... | |
| From January, 2005 Kathy & Jon fiddle and banjo... | |
Contact us at Kathy @ Planetbanjo.com
---
Jon's Family Pictures... From Nanny's old treasure box of pictures...
Engel and Jacoby Family Pictures!!!! *** Click Here to See the Pictures ***
Ashokan Western Swing Week 2015 (free, for a limited time): MP3's for the History of Hard Ass Country!
New & Improved for Ashokan Western & Swing Week 2016... The Hard Ass Country Songbook
NEW FOR 2013! The Hard Ass Country Songbook, RAY PRICE ADDENDUM!!!
July 2016: Ashokan Western and Swing Week Pictures 2016!
July 2014: Ashokan Western and Swing Week Pictures 2014!
July 2013: Ashokan Western and Swing Week Pictures 2013!
July 2012: Ashokan Western and Swing Week Pictures 2012!
New from Aug. 2011: Antique Pinball Machines at The Silver Ball Musuem!
---
New Find! Nanny's Nut Cake Recipe... in her own handwriting!
---